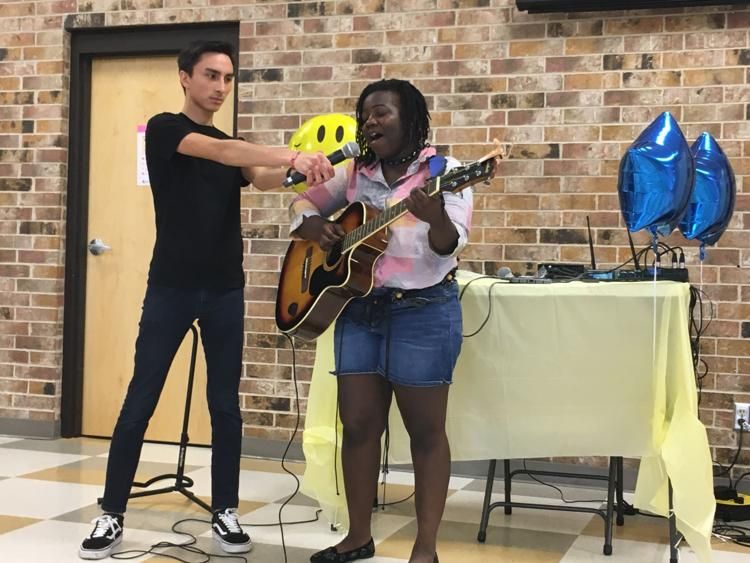 Monique Brand | Killeen Daily Herald 
Jul 25, 2019
Singer Malaika Avi (right) sang to the audience while event guest speaker Alejandro Jimenez holds the mic.
More than 20 Killeen youth gathered together to discuss issues that matter to them in a no-judgment environment on Thursday night. 
Off the Record is an annual forum held by the Youth Advisory Commission, a youth-led board supported by the City of Killeen. 
The idea of the forum is to discuss issues that are affecting today's youth whether it's mental health or bullying. 
Madelynn Spear, YAC president, said not all of the attendees were commission members. 
"One of the things we do in YAC is reach out to the community in various projects. This is one of the ways we can have a voice without judgment," Spear said. "We hold roundtables every year where community leaders hear the concerns that involve the youth. Tonight, if a constant concern is brought up, it will be discussed at the roundtable, without giving their (source) names." 
Thursday was the third year the commission has held the event. 
According to YAC Director Levallois Hamilton, the forum was the idea of a former member who revealed during a regular meeting they were bullied. 
"The meeting went in a whole different direction. After it (the meeting) was over, Off the Record became an idea," he said. 
During the three-hour event, participants engaged in icebreakers listened to guest speakers and were serenaded by local singer Malaika Avi who sang songs of hope. 
One of the guest speakers was former YAC president Alejandro Jimenez, who discussed overcoming obstacles stemming from the death of his father who suffered from cancer. 
"(Off the Record) is a safe haven where we can discuss how we have dealt with some form of issues. We are all made from the same human DNA," the 21-year-old said. 
Professional counselor Sharna Daley gave the youth a lesson on how to differentiate poor mental health from mental illness. 
Off the Record is solely a youth attended event that Hamilton said is held each summer. 
"I just stand in the background and let them do the rest. It's about the youth and what they feel inside while also learning from someone else who might be going through the same thing," he said. 
Since 1993, YAC's mission is to bring young people in grades eight through 12 together to make a positive impact in the community. For decades, the group has developed leadership skills, served as positive influences among their peers, and created meaningful change in Killeen. 
mbrand@kdhnews.com | 254-501-7567
KHD Website:
https://kdhnews.com/news/local/you-matter-youth-forum-encourages-self-care/article_401b6560-af49-11e9-96c7-4f1fbf38cbcf.html